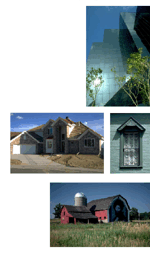 Whether your appraisal need is for financing, litigation, or establishing market
value for a loan, Northwest Appraisal has the expertise to provide a prompt and accurate report.
We routinely prepare real estate appraisals for single family residences, lakefront properties, residential income properties, farms, vacant building sites, and commercial & industrial properties. Our certified and licensed appraisers are available to provide expert witness testimony upon request.
Appraisals are performed to meet secondary market requirements from Freddie Mac, Fannie Mae, Farmer Mac, and others. We stay well-informed regarding underwriting requirements and industry changes by attending meetings, researching servicing guides, and through direct calls to underwriters for complex appraisal questions.

Types of Reports Available:
URAR
Form 2055, 2065, 2070, 2075
Form 704
Vacant Land
Desk Review, Field Review
Condominiums
ERC
Commercial and industrial reports
Mobile Homes